Hardscaping & Turf Services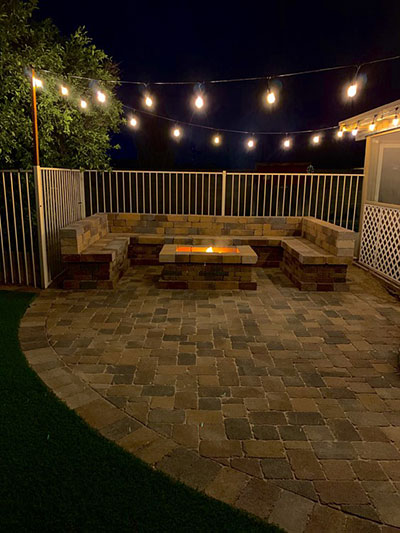 We at Oakswood Turf & Hardscape provide comprehensive landscaping and hardscaping services to our clients throughout Tucson, AZ, and the surrounding areas. Our experienced and certified crew has decades of combined experience in installing all the different types of landscape features. Our team specializes in the following areas:
HARDSCAPE STEAM POWER WASH
We distinguish ourselves based on our service quality, reliability, and cost-effectiveness. We know what it takes to provide our clients with excellent value, and our flat rate of $.99 per square foot for our hardscape steam power washing says it all. This low cost does not affect our work quality, and we use the best tools, equipment, and skills for this task. Whether you need a patio, driveway, poolscape free of stains, or a fireplace zone to look pristine, we can help. We are one of the leading companies in the hardscaping industry, providing high-quality pressure steam cleaning services to residential and commercial clients. Our modern steam cleaning equipment eliminates watermarks, old sealants, grime, etc., on all hardscape surfaces. Hiring proven professionals like us for this task is far better than handling hardscape cleaning yourself. We work with you and ensure you are 100% satisfied with our steam power wash service. Read More About Hardscape Steam Power Wash >>
Artificial Grass
We have over 15 years of experience in the design, layout, and installation of artificial grass. Our design and skilled installation crew handles each project with care. Our artificial turf services offer many benefits for your home or office. The low-maintenance surface doesn't need watering, mowing, or fertilizing. There is no need to provide additional care in extreme weather conditions. Once we install your lawn, there is very little need for maintenance.
Our quality artificial grass installation keeps your space looking beautiful for a long time. We use environment-friendly materials. The infill products we use are non-toxic and safe for the environment, people, and pets.
Besides, having an artificial turf protects you from fertilizers and other chemicals. The use of weed fabric in the turfhelps block weeds, thus preventing the need for weed control systems. Our artificial grass services come with the assurance of customer satisfaction. Read More About Artificial Grass >>
Hardscaping
Our well-designed and installed hardscaping solutions help bring uniformity in all the features and elements within your landscape. We provide total hardscaping services under the same roof. Our experienced and qualified professionals work with all the different popular materials used in the industry. This includes pavers, concrete, brick, and stone. The choice of the right material will depend on your preferences and the needs of your landscape. Our well-trained crew will conduct an inspection of your landscape before recommending the ideal material.
Some of the more popular hardscaping features that our clients in the area prefer include paver, flagstone, travertine, and concrete patios and courtyards, multi-level stone decks, barbecues, fire pits, fireplaces, and outdoor kitchens. We have vast experience in combining different hardscape features to create a more comfortable, convenient, and versatile outdoor space for you and your family. Read More About Hardscaping >>
Walkway Pavers
Our experience and expertise allow us to bring the best out of the versatility and durability of walkway pavers for our clients. There are many reasons why we recommend pavers for your pathway needs. They are available in all shapes, sizes, colors, and patterns to meet your unique needs. They allow us to bring premium looks to your space while keeping the costs within your budget.
The benefits don't just stop there. The excellent slip resistance provides additional safety to your loved ones. Over the years, you will be spending lesser on maintaining your walkways. When installed well, these walkways can withstand all kinds of weather conditions. We always recommend them for areas that receive high traffic volume. We install stone and pavestone walkways for their elegance and longevity. Whenever there is a stain or chip, the affected stones can be easily replaced. Our experienced crew always focuses on creating walkways that blend in well with the existing landscape features. Read More About Walkway Pavers >>
Driveway Pavers
We install driveway pavers in both residential and commercial properties. The quality of our driveway paver design and installation services have helped build a strong reputation as a trusted hardscape company in the region. We install all types of paver materials including brick, concrete, and stone, including architectural and interlocking slabs. Our experienced crew will help you choose the best pavers for your driveway depending on your needs.
Our experienced crew will review all your options before guiding you with the right paver materials, shape, and size. Your budget, aesthetic preferences, and your home's style will also be kept in mind. Our driveway paver design and installation service focuses on only high-quality materials and services. We also work with travertine, cobblestone, and asphalt. If you seek a different paver material, we will always be eager to assist you with it. Read More About Driveway Pavers >>
Patio Pavers
Our paver patio installation can add an element of aesthetic beauty and functional space to your outdoor. We work with all the different types of materials including brick, concrete, and stone. Whichever material you may choose,our experience and expertise helps bring the best out of its natural hardscape design. fromoutdoor barbequeto a family get-together to creating a space for relaxing and unwinding, we design paver patios to address all types of needs.
Apart from the material, our experienced crew will also help you select the shape and size of the pavers that will fit the space and your budget. We will help you make the right choice for durability, elegance, longevity, and ease of maintenance. You can also choose from different colors, styles, and textures. Once the design and material choices have been finalized, we will complete the work quickly so that you can enjoy your patio. Read More About Patio Pavers >>
Pool Deck Pavers
We specialize in installing pool deck pavers to match your personal preferences and the existing features and elements in your landscape. We recommend pavers to our clients for their beautiful designs and aesthetic versatility. There are so many options to choose from. Its beauty and durability contribute to enhancing the value of your property.
Beyond their aesthetic edge, we recommend pavers for their low maintenance needs. They are already non-porous and dense. Our sealing process will further make the surface impenetrable for all types of weather conditions. We also use special sand for the joints to prevent erosion. Our sealing process and proper installation further always keeps your pool deck pavers safe and protected from the moist environment. Even bleach and chlorine in the water will not affect the structural integrity of the material. Read More About Pool Deck Pavers >>
Retaining Walls
We install retaining walls on your property for so many reasons. Our certified crew will assess your landscape's needs before creating the design and layout. We can recommend retaining walls to control erosion, manage water drainage, secure boundary, protect your landscape from nearby hills, and for many more reasons. We work with concrete blocks, natural stone, manufactured stone, and many other materials. Our crew will determine the right material based on your property's unique needs and aesthetics.
Retaining walls are also an elegant addition to your property. Whether you want to create a complementing or contrasting effect against your landscape and other features, we can play the magic with our expertise. From creating seating walls to adding more functional space to your landscape, we can achieve different goals. Read More About Retaining Walls >>
If you need more information about our services, feel free to contact us at Oakswood Turf & Hardscape. Give us a call at (520) 912-7339 or write to us using this Online Form.
We Provide Services to the Following Cities, Towns and Surrounding Regions of AZ: